About Satyanarayan J Jadia
Catering to your requirements, handling your needs with care Since 1978
We love the beauty and design of jewellery, especially gems with their inner glow and the different cuts that enhance them.
Satyanarayan J. Jadia an established name since 1978, have marched ahead under indomitable leadership of Late Shri Satyanarayan Ji Jadia. Specializing in bridal jewelry we have also carved a niche in kundan craftsmanship
Intricate sparkles of the gems embedded within the zeal of craftsmanship can only be experienced, this is what makes us so special with our customers. Our creations are masterpieces of exquisite materials amalgamated with commitment to give you the best. Bridal Jewelry being our forte, we have also earned a niche in Kundan, Mughal Art, Minakari, and several such traditional Indian Bridal Jewellery.
Imbibing the age old aesthetics, amalgamated with tradition and values we have embarked a unique process of combining innovation with perfection. The shine on our products tells the intriguing hours spent to create those delicate curves. It is this burning desire to produce a quality that has empanelled us as an abode for the connoisseurs of the finest jewelry where the dream and we realize; the need to look beautiful.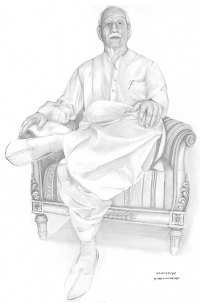 Late Shri Satyanarayan Ji Jadia (1923 - 2004)
Our Main Showroom at ahmedabad
5. Sejal Shopping Center, Opposite Lal Bungalow, C.G. Road, Ellisbridge, Ahmedabad 380 006. Gujarat India.
Phone + 91 79 2656 5807. Fax + 91 79 2640 6924 Email - jadia@sjjadia.com